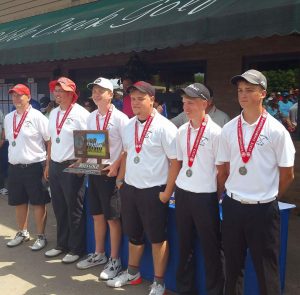 GOLF IS A UNIQUE SPORT
I spent two days in Becker Minnesota last week covering the Class A state golf tournament. It is one of my favorite high school sporting events to cover. Why? Well a number of reasons, Pebble Creek golf club does a super job of hosting the event, it is one of the best golf courses in Minnesota. Minnesota High School League also does a great job of running the event. The other reason is watching the many local kids golf in the tournament and just being with them, coaches and their families during the two-day event.
I golf some, not a lot, usually in local fundraisers and tournaments with Kris our office manager at KLQP and our family golf outing we do every summer, called the Raymo Cup. I'm not a good golfer at all, I would call myself a bogey golfer and very inconsistent. I love to just be outside with family and friends on the golf course and have a good time.
Watching these young boys and girls at state birdie and par hole after hole is just amazing and fun to watch. Sure they have their ups and downs just like anyone else, but for the most part are very consistent with their game. Some at state are as young as 7th and 8th graders.
At state golf you will usually have parents, brothers and sisters, grandparents, cousins, aunts and uncles and friends following their favorite golfer from hole to hole. The day consists of doing a lot of walking, whispering, counting strokes and moaning and groaning when a shot doesn't land on the green or when he or she three putts. You get to bond with other families of the competitors walking the same path you are. It's really unlike any other sport, and that why its special.
Some special moments for me at state golf this year, was watching the LQPV boys take 2nd place and watching Jaden Kallhoff finish up his outstanding high school career in golf. Watching the special bond that Minneota's senior Heidi Guttormsson and LQPV freshman Rachel Halvorson have had the past few years. Two competitor's on the course but friends off the course and two of the best golfers in the state, Heidi took 2nd and Rachel 11th place. Watching their moms taking pictures of them after the award ceremony for the last time.
Seeing the huge smile on the face of LQPV Abby Stender as the 8th place medal was put around her neck. And her mother in tears as she hugged her daughter after the ceremony.  Another huge smile on Minneota's Nolan Boerboom only a 9th grader just because he was happy to be at state. And Ortonville's senior Karina Kafka, whom I have gotten to know well along with her parents. Karina has worked so hard on her golf game this year and wanted badly to do well and place at state and she did just that, a 5th place finish. I was so happy for her. Karina will golf for Augsburg next year. Enjoying anticipating what Maccrays Brady Madsen and Dawson/Boyd's Tyler Lund will be wearing, two of the best dressed golfers on the course and they didn't disappoint me. The game faces that the Minneota girls golf team has while on the course, they are so focused.
The list can go on, but those are a few that made an impact on me and why I love covering the state golf meet!